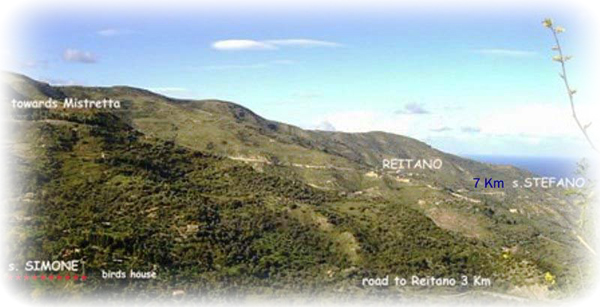 HOW TO REACH S. SIMONE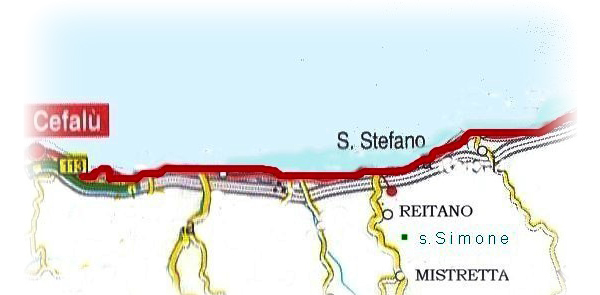 FROM PALERMO - 110 km
…if you start your trip from the "Falcone /Borsellino" airport your way is very easy
there is only one road for everybody…in 20 Km you will cross the south area of Palermo… You may don't stop here as there is no pleasure.
keep in the center of this main road,try to relax and cross the city.
later You will magically find yourself in the superway for Messina,then…. after the exit for TUSA take the exit s.Stefano.
FROM CATANIA - 2 WAYS
(1) if you prefer autoroute you can drive (80 km) towards messina and then direction palermo for 130 km till the exit for s.Stefano di Camastra .
than turn direction reitano -Mistretta. ( for the autoroute you have to pay ).
(2) take autoroute (for free) direction Palermo for about 50 km ….
then … Agira…Nicosia…mistretta…REITANO.
be prepared for a road with many bends. (160 KM drive in total).
---
FROM S: STEFANO TO S: SIMONE - 9 km
When you reach Reitano ( 7 km) the first building on the left is a Bar …go on after the bar for 80 meters
in the cross take left …you will pass by the post office , in 100 meters you will find a turn on the left ,drive it completely
and in 30 meters take the first on the r i g h t ......you are now out of the village !
driving down in to a valley you will surely reach san SIMONE farm in 3 km.
… you have to drive this road to the end ! The last part is a 600 meters country road.
FROM MISTRETTA TO S. SIMONE
At the cross with the statue turn right ,here the post office ,drive 100 meters…you will find a turn on the left , pass it completely, ……..and follow as explaned above.
If you need call:
- mobile phone (WIND)
+39 329 911 78 95